Classic CHM Help is also called Microsoft Compiled HTML Help.  It is a Microsoft proprietary online help format that consists of a collection of HTML pages and an index.  Files delivered in the format are commonly known as CHM files, and the format is often used for software documentation.  A CHM Help file is delivered as a binary file with the .chm extension.  It contains a set of HTML files, a hyperlinked table of contents, and an index file. 
The Classic CHM Help / Compiled HTML Help created by Macrobject Help Authoring Suite: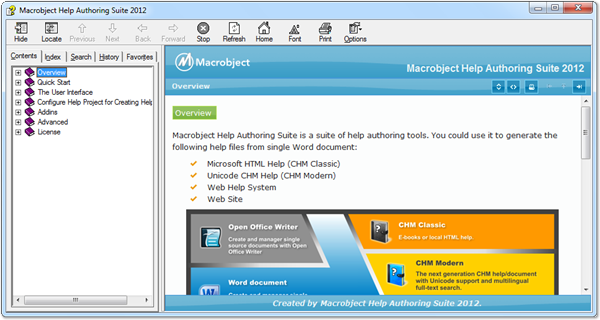 Steps for Creating Classic CHM Help / Compiled HTML Help:
1. Launch Help Authoring Suite 2012.  Or click the New button if Help Authoring Suite is already running.
2. Select the source document for creating Classic CHM help.
3. Select CHM Classic as output help format.
4. Click the Build button to start the build process.
5. Click the View button to open the created CHM help file.
Steps in easy mode:
Steps in advanced mode: