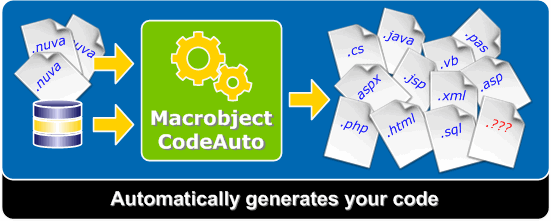 Macrobject CodeAuto is a code generator, which is template-based and can generate all sorts of text files from database schema, data, XML and other data source.
If your work involves frequently writing similar codes or codes with repetition, then it is a good choice to write a template and let CodeAuto to finish all tedious work according to it. CodeAuto can generate both simple code segments and a whole application. Our website macrobject.com is completely generated by CodeAuto.
CodeAuto uses Nuva language as its template language. Nuva is the first scripting language in the world specially designed for template-based code generation.
CodeAuto provides a set of templates which can be used to generate Macrobject OQL.NET query framework, Macrobject DObject persistence layer, Macrobject NObject persistence layer, Microsoft SQL Server script and Microsoft Access script and so on.
CodeAuto is free for personal use, but if you want to use it in manufacture environment, please purchase software license first.