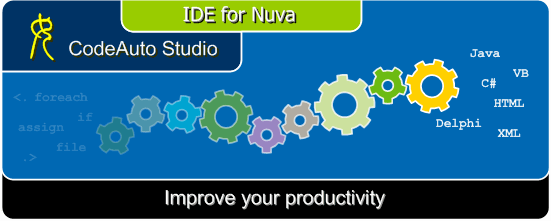 CodeAtuo Studio is an IDE for the language Nuva designed by Macrobject Software.
A Variety of powerful functions, e.g. instant syntax-check, code structure tree, help you develop CodeAuto templates and Nuva applications more quickly.
Nuva language is an object-oriented, dynamic scripting language, which is designed for template-based code generation.
CodeAuto Studio includes CodeAuto code generator. Macrobject CodeAuto is a code generator that is template-based and can generate different types of text files accordingly from database schema, data, XML and other data source.